There are actually two ways to connect your mobile Temple wallet to a dapp.
In this manual we will walk you through both of them.
1. Connecting via wallet.
First of all, open the dapp you wish to link your Tezos account with.
You can do it in several ways:
- Type the dapp's web address into your browser if you know it.
- Use our Dapps section, where all popular Tezos dapps are aggregated.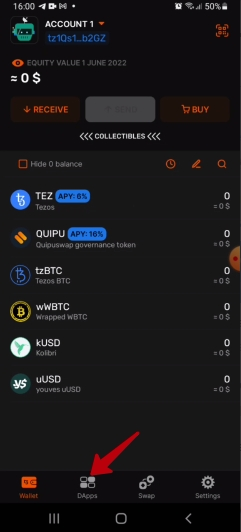 Now find the Connect Wallet button on the dapp's UI and click it.
Ignore the Install Temple option, it is for desktop.
Instead, tap the Beacon button and then tap Connect Wallet once again.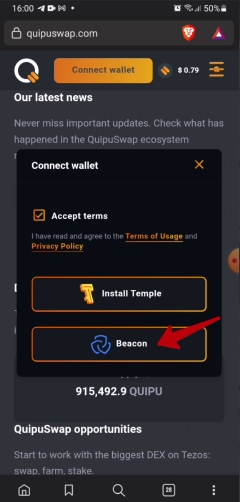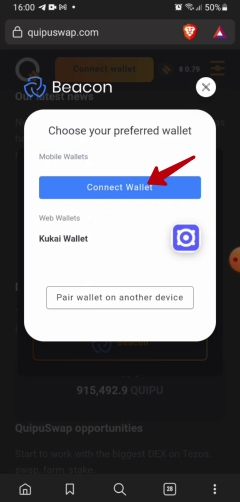 You may need to wait a little while, usually it does not take more than 15 seconds for the confirmation screen to appear.
On this screen, you will be able to pick the account [1] that you want to be linked with the dapp (for wallets that contain multiple accounts) and then confirm [2] your decision.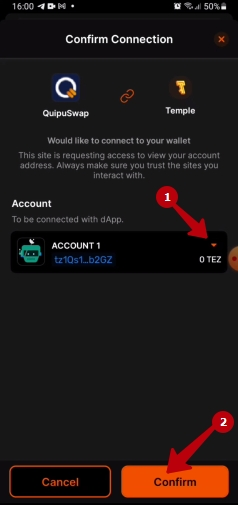 And that's it! Moving on to the second method.
2. Connecting via QR code.
Arguably a slightly faster route, but it requires a second device (like a second phone or a laptop) to make the QR scan possible.
The first steps are the same. You will have to open the dapp's page on your secondary device (second phone or laptop) and tap Connect Wallet. Then tap Beacon. The difference here is that your final destination is the "Pair wallet on another device" button.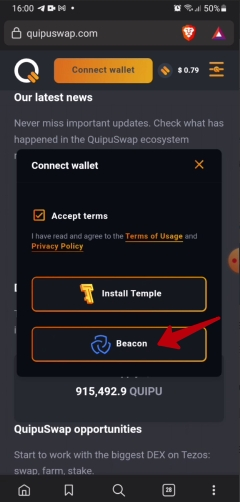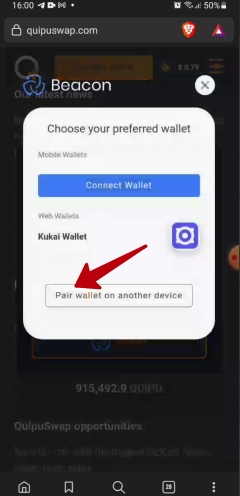 Once you tap the "Pair wallet" button, a QR code will be generated. Now open Temple mobile on your main device, tap the Scan icon and scan the QR code.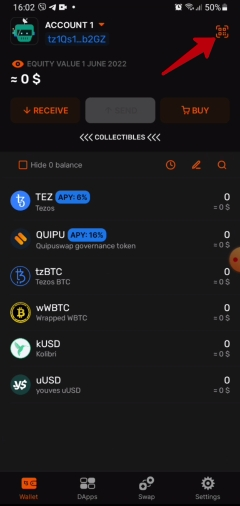 Now click through the Confirmation Screen and your wallet is connected!
Troubleshooting: if you are unable to connect your mobile wallet to a dapp, make sure that you have no internet provider-related issues (try a different connection or a VPN). Turn off Adblocker and/or Battery Saving Mode.
If you encountered any problems and they were not resolved after reading this guide, please feel free to ask your questions in our telegram or discord communities.