1. My Objkt and Temple wallet freeze when I am trying to create a new collection.
Due to the feature of Beacon in mobile browsers, sometimes there are problems with connection through a mobile phone.

Follow these steps to fix this issue:
Open the DApp

Connect mobile by Temple Wallet (Temple Wallet has opened)

Return to the browser

Wait until "Awaiting Confirmation" status appears

Return to the Temple Wallet
2. I Want to rename my NFT in the Temple wallet. What should I do?
If you want to rename your NFT or change other info, follow this guide.
If you encounter any problems, please feel free to ask your questions in our telegram or discord communities.
3. I can't confirm the operation, the transaction is loading too long
First of all, follow the instructions on the Temple connection page.
If the problem wasn't fixed, try to disconnect your wallet from the Objkt and clear your browser cache.
Also, you can try changing the node: Settings -> Default Node (RPC) -> Select another node.
4. I can't mint/burn my NFT - I receive an error. What should I do?
Please check that you have enough XTZ to mint your object. Next, try to increase the storage fee in the Temple wallet.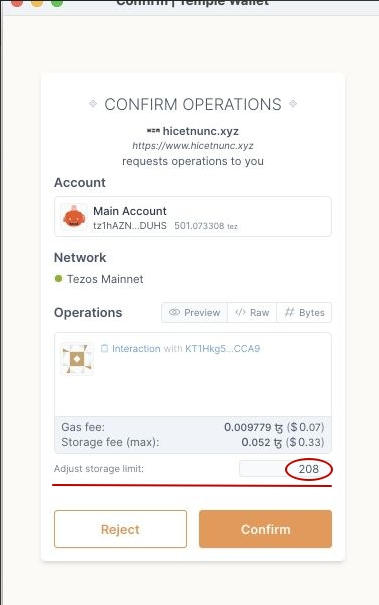 If it didn't help, try to mint an object a little later; maybe it's a temporary issue with the Tezos node connection.
Also, if you want to burn your NFT - check that it wasn't added to Sale (Swap) in your Hic et Nunc account.
5. I Don't see my NFT in the Temple wallet. What is happening?
You have put your NFT on sale. If you have added your NFT for Sale (Swap) they will be locked by the objkt.com smart contract and not appear in your wallet.
So you may see them in your account but not in the Temple wallet.
Another reason. Sometimes the Temple wallet does not display all tokens in your account and you need to add them manually. You may learn how to add your NFT from this guide.
If you encounter any problems, please feel free to ask your questions in our telegram or discord communities and provide us with the following information:
For Temple extension:
1)Extension Version
2)Operation System version
3)Browser and browser version
4)Screenshots or Video or Steps to reproduce the bug
6)Transaction hash and Public key (if the bug is related to a transaction)
7)Link to the DApp (if the bug is related to a DApp)
8)Use Ledger live or not(if the bug is related to a Ledger)
9)Copy error logs (if the transaction is failed)
For Temple mobile:
1)Temple Mobile Version
2)Android or IOS version
3)Device name and OS name/version
4)Screenshots or Video or Steps to reproduce the bug
5)Transaction hash and Public key (if the bug is related to a transaction)
6)Link to the DApp, Browser and browser version(if the bug is related to Dapp usage)
7)Copy error logs (if the transaction is failed)