In most cases - a new Temple wallet Synchronisation with the dapp helps.
Try to log out and log in to your dapp again. Syncing Temple wallet with the dapp happens in three simple steps:
- Click the "Sync/Connect wallet" button on the dapp's page. Usually, it can be found somewhere in the header.
- Choose and click Temple wallet in the wallets list.
- Confirm the connection in the Temple wallet pop-up window.
In this article we'll walk you through the various issues you can encounter with the wallet/dapp syncing and offer solutions.
1. I do not see Temple wallet on the wallet list.
Make sure that you are logged into your wallet.
If you are, try clearing the browser cache.
2. The confirmation window did not appear.
Sometimes the confirmation screen can be hidden behind the browser window. Check if that's the case.
If not, reset the Beacon connection in the corresponding pop-up.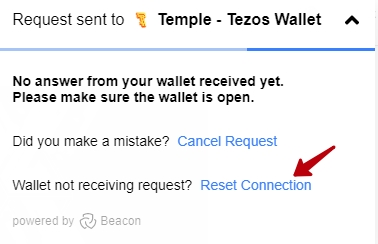 3. I can not connect to a dapp via Temple mobile.
Make sure that in the wallet list you choose the mobile Temple app and not the desktop Temple download.
If all fails, try an alternative method of paired device syncing as shown in this video.
If it doesn't help and you see a
blank screen
, conduct steps
from this guide
.
4. Try to connect to the dapp via the browser Incognito mode.
In some cases, browser plugins may block access to the dapp. If your connection works in the Incognito mode, you need to check the list of installed extensions and turn off an extension that causes this problem.
5. The wallet seems to be connected, but the dapp does not work correctly for me.
There are several possible solutions that can alleviate your problem. It is advised that they are tried in this order:
1. Update your Temple to the latest version. Make sure your OS and browser are also up to date.
2. Switch to a different node.
3. Try a different internet connection or VPN (change a location)
4. Log your wallet out of the dapp and then resync again.
5. Temporarily turn off the ad blocker or anti-malware programs (only try this if you know what you're doing).
7. Try installing Temple on a different browser.
9. Reinstall and restore the wallet with the seed phrase.
Hopefully, this guide was helpful.
If your issue still persists, please reach us on
Telegram
or Discord. Make sure to prepare the following information:
- Temple wallet version.
- Device type, Browser and OS version.
- Specific error text, if any.